King's offers a wide range of opportunities to study abroad in partner institutions having formal twinning arrangements with many prestigious institutions around the world.

If you are studying on a MBBS course, during the final year students are required to spend 8 weeks on elective placement as part of the Elective and Global Health module.

For many students, this is the highlight of the undergraduate course. After years of training, you will be able to put your skills and knowledge to the test almost anywhere in the world. To find out more about this please contact your department, who should be able to help with any questions.

 
To support your application, you are likely to need 2 letters:
Dean's Recommendation Letter

Elective Support Letter
How can I access these letters? 
You can now access both these letters through your student record. Your letters will be available under the 'My Programme' box appearing like this: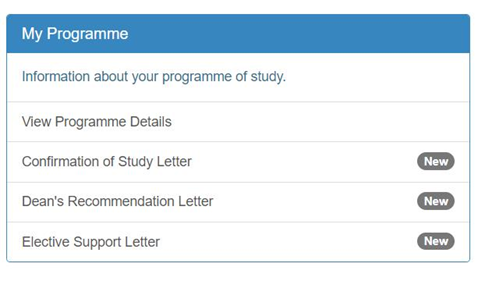 Since these letters are only for MBBS students in Years 4 and 5, these letters will appear on your letter list in this box once you have re-enrolled for Year 4 and the new academic year has started. If you're experiencing any difficulties accessing this letter and need any support, you can get in touch with us and we'll be able to help.